Love ,an emotion,a feeling,one that invokes an inexplicable sense of happiness and many a times, despair too.
But what really is this obsession we have with love? Why is it so important to define it,describe it?
Since the beginning of time,there have been literature, songs,movies telling us the various possibilities that falling in love can solicit you with. And somehow, we have always tried to fit our own feeling of love into one of those narratives. From something as naive as 'you give me butterflies in my stomach' to 'her smile lights up my world' From a Shakespearen quote to a Taylor swift song,why do these things have to make sense only when you're in love? They may or well,may not. But that shouldn't be a yardstick to judge your love for someone. As if, if you're not going through that exact feeling, your love isn't deep enough. It  simply means you don't need a song to describe that intangible feeling for you.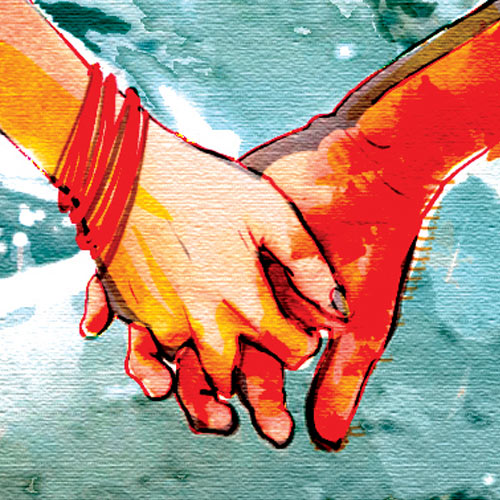 You have your own description of love, or you may have none at all. Not  everybody is good with expressions. For  someone, a little act of caring as little as passing the medicine from the side table to asking if you ate on time might be their way of saying,I love you. Why does it need to be shouted out from rooftops or written as captions under every single picture?
This whole concept of compartmentalizing love in our heads as something huge and grand ,like it is our entire life and not just a part of it is where the fault lies. Yes love may save you from many a ruins,but so can education,a job,religion,your family,spirituality,a friend ,or even an arch rivalry. It can probably give you eternal salvation,but is it the only thing that can do you that favour?
This is also why many relationships fail because after a while they start becoming a burden,a job,a duty you must report to. We mustn't forget, you come home to your love,not to your job.
The only one prerequisite to love that I , personally can think of , is that it walks hand in hand with respect.A person cannot possibly love you, no matter how much he claims to, if he doesn't respect you and well, you him. Having said that,there will be many a times when you will have to choose one between the two, always choose respect. Because as fleeting and romantic a feel as love can give you,respect has the ability to develop into a secure, everlasting kind of love that is incomparable.
Love should make you happy and well,should be convenient.
Tagore said it best, "When we sing based on the strength of our tunefulness,it belittles the song." Just like that,when we love on our ability to let the world know how competent and qualified we are at it,we disgrace the ethereal emotion.